"Jen has helped me turn my life around by helping me release of negative mindsets and habits. With her help, I was able to become me!"
"I will feel tingly since speaking to Jen! That's the best I can describe it. Thanks for your gifted work and generosity." – Kathleen
"Thank you so much for what you did for my friend, Nicole. It's amazing how you shifted her mood. You gave her comfort and hope. Thank you!" – Jessica
"Your email reading is uncanny and unbelievable! I have gotten goosebumps just reading it!! THANK YOU!" – Venerable
"Thank you for taking the time to clarify many questions I had pertaining to my new journey. You have truly inspired and instilled my knowledge that I have finally found the life path I love doing." – Mary
"Jen has taught me and others how to become our true selves and inspires us every day!" – Kathleen
"I had questions regarding my recent losses. I now have peace and wholeness knowing they are always watching over me. Thank you for taking the time to listen to me." – Jen
"You truly are inspiring! I am thankful for the reassurance of positive things to come." – Chyna
"Jen truly has a special gift! She answered my questions and let me know my family is doing well on the other side." – Renee
"Jen gave me a lot to consider and the motivation to change." – Wendy
"Thank you for the reading! I have been working on most of what we discussed. I love the idea of writing to my angels. I appreciate your love and support!" – Norma
"What a wonderful email reading! It felt very full, apropos and loving! Very guided and in alignment with so much of what I felt and what I am currently feeling! Thank you for sharing your gift, Dear One!" – Angela
"Jen has a gift most of us would love to have. Jen offers peace and love and she has helped me a great deal. I feel a bond with her. Hugs and prayers go to anyone who needs her help and hope!" – Danny
"Thank you for guiding me back to living a happier, healthier and more productive life, with my children. I am grateful for all Jen stands for and all she does."
"Your response was so detailed and accurate. I'm so glad my future looks so happy and promising and that my soul mate is close. Thank you again!" -Jess
"The new girl I met is amazing. I thank you so much for the help you gave me and the direction in my life and love issues. Thank you so much." – Derrick
"EVERYTHING CAME TRUE! To the feelings, the jobs, and the instances! Thank you again and I look forward to speaking with you!" -Shaina
"Thank you for answering my questions, giving me guidance and of course, something to look forward to." – Tammy
"Jen answered what I had in my heart for the longest time. Thank you so much for your gift. You are truly special." – Barb
"Jen was very insightful and interesting! She helped me out a lot!" – Kim
"Thank you sincerely for your kind and encouraging words." – Lauryn
"Jen helped me through the difficult time of my Mom's passing. She is very gifted and I am blessed to have met with her." – Ann
"Jen made me feel as if my family members were talking directly to me." – Jean
"Jen is easy to talk to and really understands where you are coming from." – Barbara Ann
"Jen's answers were enlightening, even if sometimes the answer was already known or hard to accept as my truth. She helped me overcome this and work with her to embrace my new life."
"EVERYTHING CAME TRUE! To the feelings, the jobs, and the instances! Thank you again and I look forward to speaking with you!" -Shaina
"I want to thank you so much! I can tell my heart is filled with happiness now. I am able to focus on my prayers and know that my heart was right about him!" – Ashley
"I saw your picture and could tell in your eyes you have a good heart and genuine spirit. Thank you for taking the time to answer my email reading. You brought a huge smile to my face." – Kat
"You are just pure sunshine! I want you to know that since you gave me the journal, I have been writing in it every day and let me just say that everything is manifesting. How amazing is that!" – Natalia
"Jen recommended crystals for a friend of mine and these crystals changed my friends life. Thank you Jen for giving my friend closure she needed!" – Laura
"Thank you so much! I have never met anyone like you before! Again, thank you for your kindness, love, inspiration and giving me hope." – Judy
"Thank you for taking the time to clarify many questions I had pertaining to my new journey. You have truly inspired and instilled my knowledge that I have finally found the life path I love doing." – Mary
"Jen has taught me and others how to become our true selves and inspires us every day!" – Kathleen
"I had questions regarding my recent losses. I now have peace and wholeness knowing they are always watching over me. Thank you for taking the time to listen to me." – Jen
"Jen saw into my questions the words I did not write. She gave me a sense of peace into my life." – Betty
"Jen was able to give me answers I needed for my future. With this guidance and support, I am able to be more confident in my decisions." – Heather
"Jen answered my questions with sincerity, optimism and love. She is a genuinely caring person and it shows in her work. She offered guidance on my issues, and her passion for truth and helping people is predominant." – Rebecca
"Jen's answers to my questions were done with love and care! She was correct in every way." – Cindy
"You are just pure sunshine! I want you to know that since you gave me the journal, I have been writing in it every day and let me just say that everything is manifesting. How amazing is that!" – Natalia
"Jen recommended crystals for a friend of mine and these crystals changed my friends life. Thank you Jen for giving my friend closure she needed!" – Laura
"Thank you so much! I have never met anyone like you before! Again, thank you for your kindness, love, inspiration and giving me hope." – Judy
"Sometimes when we are stuck we need someone to give us a little nudge in the right direction, and you have done that for me. I look forward to speaking with you again. Thank you for sharing your gift and for your direction."
"Thank You Jen for your time, inspirational words and thoughts. You have given me hope with the answers that you gave me. You are a generous person." – Marian
"Thank you for your insight Jennifer! I found your answers very uplifting and positive." – Becky
"Thank you again for sharing your gift. Bless you." – Isabel
"Thank you!" – Jen
"Jen's support and positive outlook on things helped me to achieve my goals." – Rachel
"Jen is a very nice and caring person." – Allison
"Jen's words of support gave me comfort when I needed it the most." – Liza
"Jen is wonderful!!! She is caring, compassionate, honest, and loving!! She has helped me accept things. I feel I now have closure and can move forward to do what is best for me. Thanks again!" – Betty Jane
"Jen has incredible insight and an assuring, warm and sincere way about her that makes her a delight to consult with. She is truly gifted and loves to share her gift with others. She is a genuinely good soul. Thank you Jen!" – Maggie
"Thank you for sharing your gift and for your direction. Sometimes when we are stuck we need someone to give us a little nudge in the right direction, and you have done that for me. I look forward to speaking with you again." – Terry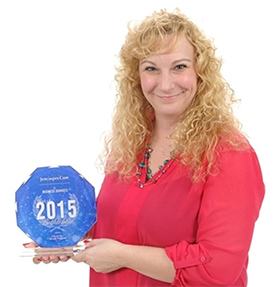 Jencasper.com Receives 2015 Best of Bethlehem Award!
BETHLEHEM November 4, 2015 — Jencasper.com has been selected for the 2015 Best of Bethlehem Award in the Other Business Services category by the Bethlehem Award Program.
Each year, the Bethlehem Award Program identifies companies that we believe have achieved exceptional marketing success in their local community and business category. These are local companies that enhance the positive image of small business through service to their customers and our community. These exceptional companies help make the Bethlehem area a great place to live, work and play.
Various sources of information were gathered and analyzed to choose the winners in each category. The 2015 Bethlehem Award Program focuses on quality, not quantity. Winners are determined based on the information gathered both internally by the Bethlehem Award Program and data provided by third parties.
About Bethlehem Award Program
The Bethlehem Award Program is an annual awards program honoring the achievements and accomplishments of local businesses throughout the Bethlehem area. Recognition is given to those companies that have shown the ability to use their best practices and implemented programs to generate competitive advantages and long-term value.
The Bethlehem Award Program was established to recognize the best of local businesses in our community. Our organization works exclusively with local business owners, trade groups, professional associations and other business advertising and marketing groups. Our mission is to recognize the small business community's contributions to the U.S. economy.